On Medea and female homosexuality in antiquity (quite unrelated)
You asked for a rant, so it seems you shall receive one. Reading
this article from the Savannah Morning News
, which I found from
rogueclassicism
, I was struck by this line:
In the story of Jason and the Argonauts, you realize for the first time that Jason was really a cad. Who was he to think that Medea, the woman who not only loved him but saved his life, would be OK with his marrying another woman?
Now, I don't know about you, but even when my knowledge of mythology was only cursory, I was quite aware that Jason was a cad. My first realisation of that was the first time I was even aware of Jason's existence! That, of course, is my own bias, but it shocks me every time someone implies that Jason could be anything
but
a cad. I'm also not sure about others, but I know we read Euripides'
Medea
in our intro-mythology course. How anyone can consider Jason anything but a cad after reading that is beyond my powers of interpretation.
On a different note, I thought I'd share with you, dear readers, a picture I took at the Louvre in Paris last month (I'd be happy to e-mail a larger version if anyone is interested):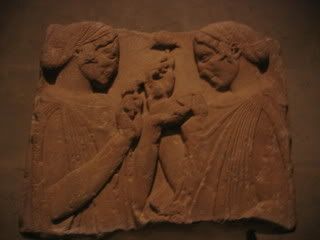 My biggest regret is that I didn't have time to take a picture of the information with it or write it down, so I can't track this particular piece, other than to say that it is from the Louvre (and located near the statuette of Euripides that is in my icon). I do remember that the subject of the relief, as far as the Louvre or my professor knew, is uncertain. The usual speculation would be that it depicts Demeter and Persephone, but there is nothing explicit in this image to indicate that. In fact, having just written a paper on female homosexual relationships in antiquity (which, sadly, did not include analysis of visual images) this past semester, it seems to me that this possibility should, at the very least, be entertained. Particularly noting the gestures of the woman on the left and the look of the woman on the right, I am personally convinced that it depicts female homosexuality. However, my "expertise" lies more in the analysis of literature than it does in visual art. Thus, if anyone has anything more to contribute, I would certainly be interested in hearing from them.
Most useful, of course, would be some sort of date for this piece and of what it is a part. There are certain periods when female homosexuality was more acceptable than it was in others.